It is
Fly on the Wall
day! Come on in, wipe your feet, and make yourself comfortable. I'm here to dish out the dirt, along with 16 other bloggers. At the end of the post, you will find links to them, so make sure to visit. You won't be disappointed!
Here's a little musical gem from my mother:
There was a little peanut, sitting on a track; his heart was all aflutter.
'Round the bend came a Choo Choo train; Woo woo, peanut butter!
Baseball season has officially started for us. We are the Reds (

Bigfoot

) and the Mets (

Little Sasquatch

). So when my parents visited, we played a lot of baseball. Which means I was running. Me + Running = terrible idea.
I ran out of my shoes twice – sandals. The second time I told the entire park "I left my shoes in Arkansas." No, I don't know why I said that. Apparently it was hilarious, though.
It's going to be a long season…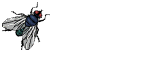 I try really hard to contain my language when my parents visit. Unfortunately, during the aforementioned baseball scrimmage Bigfoot hit a hard one out over my head. I was unprepared, so I shouted out "Shit!" as I chased the ball (running out of my shoes – again). My dad "ran" the bases and he looks at me:
Dad:
I've
never heard a ball called that before!
Oops. At least they were laughing.
I got spring's first sunburn… and then the second. Back to back. No one was allowed to touch me. I gave myself the nickname "Lobster Tits". Effing blisters and everything – ouch! Now it won't stop raining.
Like I said: it's going to be a long season.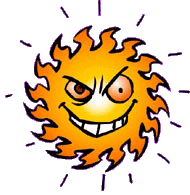 Bigfoot

, my teenage boy, has yet to reach the stage where showing me affection is the most embarrassing thing ever. He is also taller than me, by inches. It's terrible. So he comes to give me a hug and I wrap my arms around his neck and take a deep breath… and was assaulted by a smell.
Me (as I push him away): Oh my god. You smell like a dude! Gross!
Something which, apparently was hilarious to him. I think he is still laughing as I type this.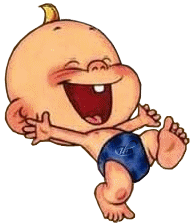 This conversation about Taco Bell:
Bigfoot

: I was watching a YouTube video on Taco Bell and they were singing a song about the Golden Anus.
Me: You know what? I'm eating. La la la la la lala ala.
Little Sasquatch: It makes me want to sing "
I've
got a Golden Ticket".
Me: Oh. Oh no. Now
you've
done it: "
I've
got a Golden Anus.
I've
got a Golden Anus."
*laughing*
You only have yourselves to blame.